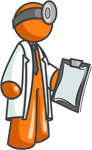 We're a bunch of bugs provide local Malaysian, professional expertise in PC computer repair and maintenance, fault diagnosis, data lost recovery & backup services, virus & spyware removal and other computer support services to home users and small businesses within *Subang Jaya. Think of us as your own personal IT department, on-call whenever you need us.

We not only provide the technical support, we have honed our skills to understand your specific business needs and requirements and we design custom software application or website accordingly. We adopt the spiral iterative approach while developing rich internet custom applications or website and cross platforms.

Clear, Impartial Advice - As we are not a shop trying to sell you products, we can give you impartial and honest advice to ensure you get to choose from the best options available for your situation as our business ethics straight talk about how to do it right within your budget. This way you stand to get the maximum benefit from your computer, software application & website now and into the future. All help and advice is given in a personal, friendly, straightforward way, no matter what level of computer knowledge you may have.

So call us today if you need any help with your computer or for a free estimate. See below for some of the services we can help you with or check out the Computer Services page for more detailed information.

Wide range of technical support:
Computer,Laptop & Server:
a)All repair services related
b)Format & Configuration all operating system
(all kind of Windows, Linux & Apple-Mac)
c)Computer & networking security
d)Data lost recovery & Backup services.
(The recovery cost is independent of the size of recovered data. No recovery results in zero charge except for diagnostic task.)
e)Dual boot solutions
(running different operating system such as running Windows on your Apple-Mac)

Our on site service coverage area:
a)Subang Jaya, USJ, Subang Heights, Putra Heights, Bandar Sunway, PJS 1- 10, Kelana Jaya, Petaling Jaya, Phileo Damansara, Shah Alam, Taman TTDI Shah Alam
b) +/-25KM radius from Subang Jaya.

Do contact us if you need help with anything we haven't mentioned.

What else?? Just hanging around, DOTA, spending on research and development (R&D) and contribute to community by do translation and interpretation of all languages IT technology related articles into Bahasa Melayu.

Life's gamble. IT is logic - Gombugdotnet

Gombugdotnet registered with Companies Commission of Malaysia(Suruhanjaya Syarikat Malaysia or SSM) with registration number - TR0109982-D.

Gombug.Net portal for Malaysia technology news and IT business analytic. We encourage you to visit this portal frequently to check for latest updates to available resources and documentation.

If you have any ideas or questions, please feel free to contact us using our contact data or the form below.